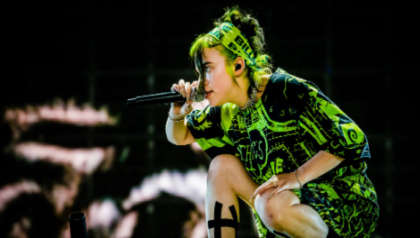 During her live performance at the Glastonbury stage last night (24 June), Billie Eilish called the US Constitution's decision to end the country's legal right to abortion a "really dark day for women in the US".
This comes after the US Supreme Court overturned the landmark decision 1973 Roe v Wade case which legalised abortion.
Billie Eilish had taken to the stage at Glastonbury alongside her brother and co-writer Finneas O'Connell, becoming the youngest solo artist to headline the Glastonbury in the process.
Introducing her song Your Power, Eilish told the audience, "The song we're about to do is, I think, one of the favourites that we've written and it's about the concept of power and how we need to always remember how not to abuse it".
She also added, "And today is a really, really dark day for women in the US. I'm just going to say that as I cannot bear to think about it any longer in this moment".
During her set, Billie Eilish also treated fans to live covers from her two number one albums, including 'When The Party's Over', 'Bury A Friend', and 'My Strange Addiction'.
Along with abortion, Billie Eilish also used her live platform to speak about protecting the environment.
"So I think we all know that we really need to do a better job of protecting the planet that we all live on", she said. "We always can do a better job of protecting our people and our friends and family and strangers and standing up for each other and standing with each other".
"And I love you all and I stand with you and I support you and everything that makes you who you are".
The singer also felt that she was "so undeserving" of this opportunity to perform at Glastonbury and thanked her fans, who continued to chant her name throughout her live set.
"I am so honoured to be here among all of you and all the incredible artists and the history of this festival", she told the crowd.