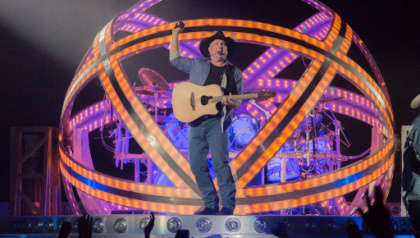 When he is not rocking the stage at Croke Park in front of thousands of fans, Garth Brooks has used his downtime between gigs to tour Ireland.
Having already paid a visit to the University of Limerick to meet the Munster Rugby Team, the country star also shocked regulars at the Dick Macks Pub in Dingle, County Kerry, when he paid them a visit, posing for photos, pulling a pint or two of Guinness, along with a live cover of his track 'If Tomorrow Never Comes'.
Footage of this was captured and shared via social media.
Dick Macks pub is a must see for any visitors to the Kerry area, a pub which has attracted its fair share of famous names over the years.
Garth Brooks has an exceeding fondness for Ireland, and this love will be the subject of a documentary, which will be released later this week.
I think he's a bit hoarse from the three gigs. 🤠 (Note not my video). #GarthBrooks #Dingle #DickMacks pic.twitter.com/9y3m3TkbiK

— Aoife Dowd (@aoifedowd) September 13, 2022
Garth Brooks has already visited the Wicklow area of Glendalough alongside his wife Trisha Yearwood, as he takes time out between gigs at Croke Park.