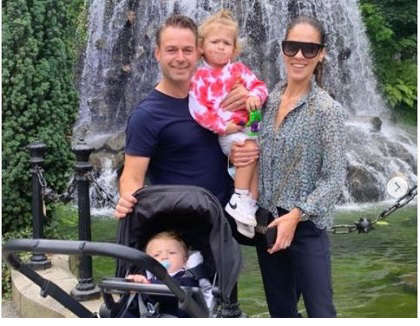 Glenda Gilson "got into a scrap with Batman" ending in a trip to the dentist this weekend to fix her chipped tooth!
It is all smiles again for Glenda Gilson as she has recovered from her nasty injury this past weekend. Badly chipping her tooth, the Virgin Media presenter shared the damage on her Instagram story before heading for a trip to the dentist.
Posing for a selfie in her car, Glenda revealed, "So yesterday I got into a scrap with Batman, and this happened".
The former model broke a big chip out of her incisor, leaving the star rushing to have it repaired over the weekend. Thankfully, the mother of two was able to get a quick repair, sharing a snap of herself in the dentist's chair in protective goggles.
Sharing a post to her 87.5k followers and reported by EVOKE, Glenda said, "Thankfully the talented people at MyDental Ireland looked after me straight away". Shortly after, the star shared a follow-up snap of her brand new tooth, gushing, "And now I look like this, thank you, Dr Rosh".
Glenda is currently still away on maternity leave following the arrival of her second son, Danny, last October. The star, and hubby Rob MacNaughton, first became parents when they welcomed their son Bobby into the world in 2018.
Glenda previously opened up on her pregnancy, telling reporters, "It was actually all right. It's always going to be a tough time. It's pregnancy, it's labour, it's always tough. Rob pretty much just had to leave me at the door, take the suitcase out, hand it over to a security guard, say goodbye to me, and in I went.
"It was all very different than with Bobby because he's masked up in the PPE gear. It didn't bother me because it was my second child, but I'd say if it was your first child it would be very hard."