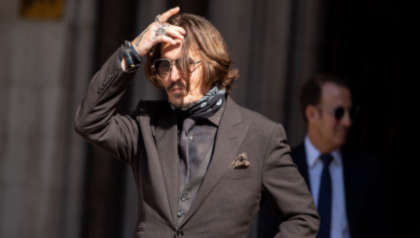 Johnny Depp is preparing to star in his first big film role since his court victory over his ex wife Amber Heard.
Back in June, the courts found in favour of Johnny Depp, after he sued his ex wife for defamation, regarding an article which appeared in the Washington Post in 2018, alleging that he physically and sexually abused his former spouse throughout their marriage. The couple tied the knot in 2015, before divorcing in 2017.
Since then, the actor has been spotted donning regal clothing, including a white plumed hat covering curled white hair, and a black blindfold on. Depp is currently prepparing for the upcoming french film, Jeanne Du Barry, which follows a young working class woman called Jeanne who uses her intelligence and attractiveness to climb the social hierarchy, which subsequently lands on the radar of King Louis XV.
The film is being directed by French filmmaker Maiwenn and produced by French company Why Not Productions. Filming for this movie reportedly got underway shortly after the conclusion of the court case.
Along with Depp, the film is also set to feature actors Noemie Lvoksy, Benjamin Lavernhe, Melvil Poupaud, Pierre Richard, India Hair and Pascal Greggory.