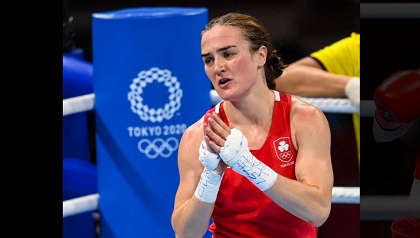 Kellie Harrignton has called getting to the Olympic final for a shot at gold medal glory, the stuff of dreams. Harrignton beat Thailand's Sudaporn Seesondee on a split decision to ensure at least a silver medal.
Kellie Harrignton had faced her Thailand counterpart before, beating her at the World Championships in 2018. She will now face Beatriz Ferreira of Brazil on Sunday for a shot at Olympic gold, becoming the first female Irish boxer since Katie Taylor in 2012 to do so.
Speaking afterwards, Harrignton admitted to being understandably "lost for words" as her feat sunk in.
"It's fantastic. Olympic silver medallist", she said. "That's the stuff that people dream about. Many tried to get there, many don't have what it takes to succeed because they don't have the willpower, the determination, the focus, the dedication".
"I eat, sleep and breathe boxing. I've had heartbreak. I know what it is to fail and I know how hard it is to pick yourself back up after that".
She continued, "This is why I am who I am, and why I am here today – because I'm not afraid of failure. I know what it is. I'm Kellie Harrington. I'm myself and I make my own pathway".
Close
Despite the lack of consistency on the judges' score cards, Harrignton thankfully came out on top, much to her relief.
"I knew I was up after the first two rounds", she added. "They were close rounds but I knew I was up. I didn't want to rush in and do anything stupid".
"I felt like she thought she was up because she didn't come as much as I thought she was going to come and then in the third round I felt comfortable enough just moving my head".
"I felt like she backed off a little bit. That's probably because I was catching her when she was coming in with hooks".
"She's very, very tricky. I wasn't getting inside to get a bang because she hits hard with her back hand. She was throwing shots to the body but they were literally skimming my shirt".
"To me they weren't counting because it was just like because a judge will only score something that's a good shot and I felt that my shots were cleaner and so I felt like I won each round"
"Not by a long shot but again, like I said, you need to do what you need to do and I won each round – just by winning each round".