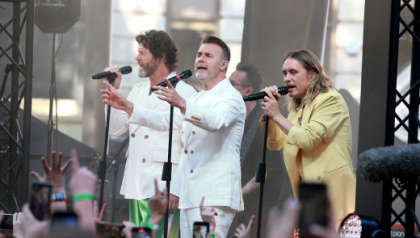 Take That have promised to drop "emotional" new music next week.
Coming next week, this new music is to mark the first released by Take That since their 2017 album 'Wonderland', with Gary Barlow saying that the boyband are "so excited".
"It sounds really different and emotional and fitting for where we ware now in our lives", Barlow was quoted in saying at an event for his Gary Barlow Organic Wines collection. "We are very proud".
Gary Barlow also confirmed that the new music would arrive later this month.
"Only four days ago we were shooting a video for our new single which is going to be played next week sometime", the musician said. "On Radio 2 at the end of next week but we are so excited. Obviously it has been quite a few years since we had new music".
"I think 2017 was our last official new music and this one I am so excited for you to hear".
The 'Greatest Day' hitmakers had previously promised new music was on the way, having already collaborated with Calum Scott earlier this year.
Howard Donald who completes the line up alongside Gary Barlow and Mark Owen, had hinted that the band's new music would see them move in a "different direction", and suggested that a new album would be "sounding absolutely brilliant".