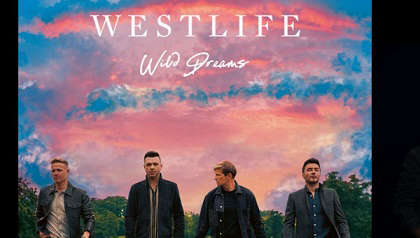 Westlife have announced that their new album will be titled Wildest Dreams. The band have also confirmed that the album's opening track "Starlight".
This is also the group's first new record with the label EastWest Records, having signed with them earlier this year.
The band have also revealed that this album, their first in two years, will have a pandemic theme to it.
"This album means more to us than anything we have done before and has been inspired by the challenges we've all overcome over the last 18 months", they said.
Westlife also said that the "maze of emotions" that they experienced during this pandemic inspired them to write "feel-good uptempo tracks" and "powerful, heartfelt ballads".
"The maze of emotions we all experienced during the pandemic drew us to songwriting and has helped us create a really special album that we have everything we love in music - it's got fresh feel-good uptempo tracks like 'Starlight' as well as powerful, heartfelt ballads such as 'Always With Me'".
We are so excited to be back with new music! 💛🎶 Our new album is called Wild Dreams, about new beginnings, hope and looking to the future. The first single Starlight comes out tomorrow at 8am, hear it first on @BBCRadio2 from 7am 💫 https://t.co/1hKE3VFfaN pic.twitter.com/iCKJL7YFmR

— Westlife (@westlifemusic) October 13, 2021
Along with the new single "Starlight", this new record will also feature live recordings of well known Westlife classics "Flying Without Wings", "Uptown Girl", and "World Of Our Own".
Along with the above Twitter post, Mark Feehily, Kian Egan, Shane Filan, and Nicky Byrne have also posted teasters on their individual social media accounts.
The most recent feature saw Kian miming lyrics to a track on the band's Instagram account.
In the video, Kian can be heard miming "What is that? Could it be?".
Check it out below.