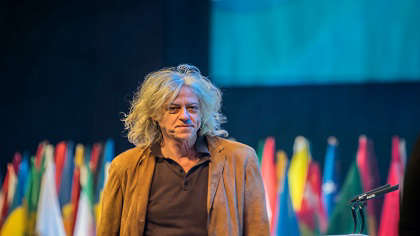 Live Aid will be adapted into a stage musical in London's West End.
1985's legendary charity event was held simultaneously in London's Wembley Stadium and Philadelphia's John F Kennedy Stadium.
Live Aid, the brainchild of Bob Geldof and Midge Ure, was broadcast live around the world to an estimated audience of 1.9 billion people, or 40% of the global population.
The new musical Just For One Day is said to be "the story of Live Aid and the people united by it."
Musician and activist Bob Geldof said:
"From seeing Just For One Day throughout its development, if this musical encourages just one person to have a positive impact for the better, then it will be a job well done.
"I'm looking forward to seeing it at The Old Vic… it better not be s***!"
The show will feature the songs of Bob Dylan, David Bowie, The Who, U2, Queen, The Police, Elton John, Paul McCartney, The Pretenders, The Cars, Status Quo, Paul Weller, Sade, The Boomtown Rats, Bryan Adams, Diana Ross, Ultravox and more.
However, it is not a "tribute show."
Geldof told BBC News that he "wouldn't have anything to do with that."
"There isn't a person dressed up as Freddie wearing a crap moustache. The songs drive the drama along," he added.
It was written by John O'Farrell (Mrs Doubtfire, Something Rotten) and is directed by Luke Sheppard (& Juliet, The Little Big Things).
Matthew Warchus, artistic director of The Old Vic, said:
"I had the pleasure of working with Luke Sheppard on Matilda The Musical and I have always admired the witty brilliance of John O'Farrell's writing, I am thrilled to have these two great forces uniting on The Old Vic stage alongside an excellently talented company.
"For those of us who were around in the 1980s, Saturday July 13 1985 I'm sure will be one of those days that is forever etched in our memories.
"We all remember where we watched Live Aid, who we watched it with, and the pure amazement at the feat that was unfolding before our eyes.
"It's these memories and individual stories that are the beating heart of Just For One Day, and I can't wait for audiences to share in a moment that galvanised the globe once again."
The show is scheduled to run from 26th January until 30th March 2024.
Tickets go on sale at midday, 6th October.
10% of ticket revenue will be donated to The Band Aid Charitable Trust.