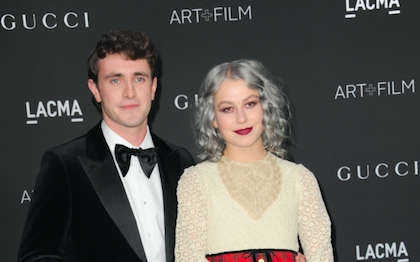 The pair who have been the subject of dating rumors since Bridger's referred to Mescal as "the cute boy" from the BBC series Normal People in a 2020 interview have seemingly confirmed their romance!
Mescal, 25, and Bridgers, 27, attended the 2021 LACMA Art + Film Gala red carpet together on Saturday, November 6th.
The event, presented by Gucci, took place at the Los Angeles County Museum of Art. The pair was dressed to the nines, with the Normal People star sporting a black tuxedo, and the singer wearing a cream-colored lace blouse and red tartan skirt.
Bridgers seemingly 'confirmed' rumors that the two were dating when she affectionately rested her head on Mescal's shoulder as the pair posed for red carpet paparazzi.
The "Savior Complex" singer added fuel to the fire later in the evening when she teased Mescal in a tweet, saying "Paul thinks thousand island is called hundred years sauce."
The duo have seemingly been flirting back and forth online for the last two years. Last May Bridgers tweeted: "Finished Normal People and now I'm sad and horny oh wait," which Mescal responded to, stating, "I'm officially dead." Bridgers then replied back, "nooo don't die your [sic] so talented aha."