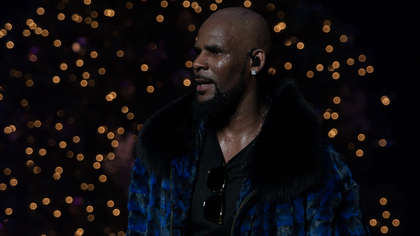 In the week following R. Kelly's being found guilty of racketeering, sexual exploitation of a child, and kidnapping, the singer's music has seen double-digit growth in streams as well as a triple-digit growth in sales.
Kelly's audio and video streams were up 22 and 23 percent respectively from September 27th through October 3rd compared to the week before. His music also saw an increase from 11.2 million to 13.4 million streams as well as a 517 percent increase in album sales.
Streaming platforms have had a unique relationship with Kelly and his music over the last few years, including services like Apple Music and Spotify "muting" the artist's songs amid allegations. Similarly, artists who have previously collaborated with Kelly have removed their songs from streaming platforms, including Chance the Rapper, who removed his track "Somewhere in Paradise" back in 2019. In light of the recent verdict against Kelly, Jennifer Hudson's song "Where You At," which was written and produced by Kelly has also been removed from streaming.
Despite this however, those who want to listen to Kelly's music are still able to do so and, regardless of the artist's guilty verdict, his streams have not dropped off at all. In fact, where Kelly was averaging 5.4 million streams per week in 2017, he has been averaging 6.4 million per week throughout 2021.
Unlike other platforms, Youtube announced this week that it would be shutting down two official R. Kelly accounts on the site.