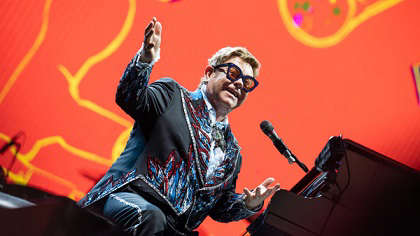 Elton John Holds off Lana Del Rey, Duran Duran for the UK Official Chart Crown
Sir Elton John has just been given another "royal nod" as he has been crowned the Official Chart King. The Rocket Man has just landed on another No.1 album in the form of his latest creation, The Lockdown Sessions (EMI).
Blasting off with 31,000 chart sales, 84% of the record's tally came via CD and vinyl sales. Featuring the U.K. No. 1 single, Cold Heart (Pnau Remix) with Dua Lipa, the collab collection is Elton's eighth UK No. 1 album and first in almost a decade.
Leading an all-new Top 4, and leading the territory in vinyl sales, The Lockdown Sessions has beaten Lana Del Rey's Blue Banisters (Polydor). Duran Duran make their comeback to the list in 3rd spot, with their 15th studio album, Future Past (BMG), matching their previous ranking in 2004 for reunification album, Astronaut.
In 4th spot, Scottish rockers Biffy Clyro gain their 3rd third UK Top 10 with The Myth Of Happily Ever After (Warner Records). Last week's chart toppers, Coldplay have dropped from 1st to 5th with Music Of The Spheres (Parlophone).
The 40th anniversary reissue of The Rolling Stones', Tattoo You (Polydor) has made an impression on the charts, coming 7th. Rising artist Mimi Webb begins her chart career in 9th with her EP, Seven Shades Of Heartbreak (RCA).
Meanwhile, Adele continues to dominate the UK singles chart with Easy On Me (Columbia) clinching a second week at No. 1. With over 11 million streams, and a record setting debut, the leading track from forthcoming album, 30, sits atop of the pile by a longshot.
With her forthcoming album soon to arrive, Adele has three catalogue albums featuring within the Top 40, all at the same time! 25 sits in 6th spot, 21 comes in a little higher up the list in 13th, and much further down the chart is 19, which currently is residing in 35th spot.