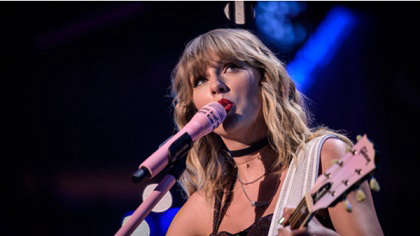 The singer songwriter replaces former champion of nearly 50 years, Don McLean, and his hit track American Pie
Move over Don McLean, there's a new title holder for the world's Number One hit of all time, fellow American musician, Taylor Swift. McLean's #1 hit, American Pie, has held that rank for almost half a century since it first landed on the charts in January 1972.
Her latest #1 track, All Too Well, comes in at an astonishing 10 minutes and 13 seconds, toppling the former champion by 1 minute and 36 seconds. However, the then 26-year-old McLean achieved the award a whole 5 years younger than the 31-year-old, and faster, with Swift taking 17 years into her career to achieve the same feat.
News broke on Monday with the multi-award-winning singer/songwriter in a giddy on Twitter, absolutely buzzing about her new achievement.
*FERAL SCREECH* https://t.co/YYhcecLUfm

— Taylor Swift (@taylorswift13) November 22, 2021
"I'm so proud of this song and the memories I have with you guys because of it. You truly chose this one and now you did THIS?! I'm floored. A ten minute song is at the top of the Hot 100.🤯"
"THANK YOU to the team that made All Too Well (the 10 min): The ultimate craftsman of songs that sound epic @jackantonoff, bad ass @Sharp_Stick, @rowedizzle and @lizrose06! Love you all.x"
"You guys sent a 10-minute song to Number One for the first time in history," Swift marveled on Instagram, posting a video of herself mouthing a popular TikTok video of a baby saying, "What the hell."
The lasting excitement which surrounds Ms Swift's ground-breaking track has been all over the news this month. Swift recently performed her hit track on the new version of Saturday Night Live, the day before that she released an acoustic performance from Manhattan's AMC 13 Theatre.
The all 'systems go' action also saw the release of a rendition of Sad Girl Autumn, and Swift's revealing of a short film for the track, starring Sadie Sink, and Dylan O'Brien. And in the midst of the star's busy schedule, she somehow managed to release a video for I Bet You Think About Me, directed by Blake Lively, and starring Miles Teller.