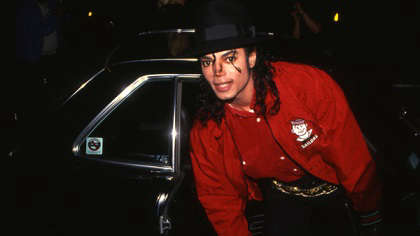 A fight involving a Michael Jackson personator in a Las Vegas street has gone viral. Not very often you hear that sentence being said is it?
The footage shows King of Pop impersonator Santana Jackson fighting a man which has since circulated online.
Describing himself as a "nationally famous Michael Jackson impersonator" on his Facebook page, Santana Jackson added that he performs in order to "keep the King of Pop's legacy alive".
He also reportedly a "professional wrestler". This skill undoubtedly proved useful when a man "came out of nowhere" and began attacking him in the Vegas street. The man can be seen wearing a "Can't fix stupid" t shirt.
Santana Jackson claimed that he was performing MJ's track "Smooth Criminal" when "the guy walked over to me".
"I thought he was trying to give me a compliment or something, [but] he hits me in the face," he added. Jackson also insisted that he "did not want to hurt the guy", saying that he wanted to fight him again when he got to his feet. He added that he "turned around and hit the police in the face" before he was arrested.
A clip of this altercation has since been posted on Twitter, registering 2.2 million views. It has also accrued 13,000 "likes" and 6000 retweets. The video shows Santana subduing the man, bringing him to the ground in a headlock. He then appears to leave the scene as the crowd gathers.
Check it out below.
WELCOME TO FREEMONT STREET !! 😳hee hee @FOX5Vegas @LasVegasLocally @lasvegas @WWEUniverse @ufc @michaeljackson pic.twitter.com/fAvVn4QdXr

— Marcus deegan👊🏼 (@DeeganMarcus) January 15, 2022
"That's why I train"
"That's why I train", Santana Jackson wrote via Instagram. "I'm not trying to hurt this guy just trying to restrain him from swinging at me".
"So I was performing and this guy came out of nowhere and started hitting me so I have to put him down for his own good. Please know I don't think fighting is the answer so try to avoid a fight if u can. Stay safe".