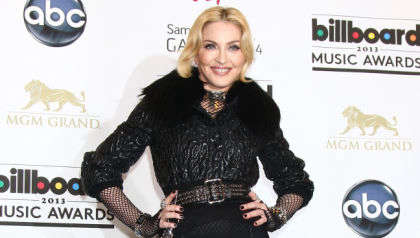 Madonna has spoken out for the first time since being criticised over her appearance at the Grammy Awards at the weekend.
The singer was heavily criticised in the aftermath of the broadcast over her physical appearance. She appeared on stage to present the live performance of 'Unholy' by Sam Smith and Kim Petras, who went on to win the accolade for Best Pop Duo/Group for the song.
Following her on stage appearance, Madonna has received flack from fans, with some saying that she was "unrecognisable", with others having a parting shot at her plastic surgery.
Following this, Madonna has hit back at her critics, saying that she is "once again caught in the glare of ageism and misogyny [that] permeates the world we live in".
"A world that refuses to celebrate women [past] the age of 45 And feels the need to punish her If she continues to be strong willed, hard-working and adventurous", she added via Instagram.
Madonna also claimed that it was "a long lens camera" that "distort[ed] her face, and lamented how the backlash had outshone her otherwise-empowering speech "about giving thanks for the fearlessness of artists like Sam and Kim".
She also added, "I have never apologized for any of the creative choices I have made nor the way that I look or dress and I'm not going to start. I have been degraded by the media since the beginning of my career but I understand that this is all a test and I am happy to do the trailblazing".
Madonna responds to criticism about how she looked at the #GRAMMYs:

"Many people chose to only talk about close-up photos of me taken with a long lens camera by a press photographer that would distort anyone's face!! … Once again I'm caught in the glare of ageism and misogyny" pic.twitter.com/jO8ec8XQSn

— Pop Base (@PopBase) February 8, 2023