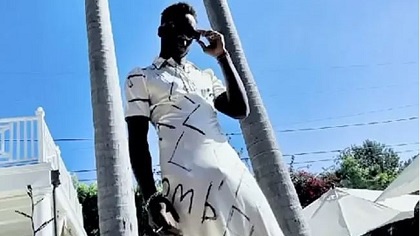 Madonna's son shows 'confidence is everything' as he models cream silk dress
Madonna's son must be taking fashion advice from the pop queen as he models himself in a silk dress. 15-year-old David Banda looked on fleek as he tried on a lovely cream silk dress to strut his stuff around the family mansion.
Madonna took to her social media to upload a video of David showing off his modelling skills in his Mae Couture ensemble. He can be seen 'showing what he's got' as he struts around, giving supermodels worldwide a run for their money.
David shows off the overall air of confidence surrounding him as he struts to Snap!'s hit track, The Power. He is filmed by his supportive mother who captioned the video; 'Confidence is everything.' Only lasting 30 seconds, the clip highlights David's beautiful dress as he flows through the house, looking back to the camera every now and then.
Fashion shoot-esque photos of David appear on the screen between clips, of him posing in the silk gown, underneath some palm trees. David showcases his fabulous fashion sense with a few minor alterations to the Mae Couture ensemble. Opting for a pair of black sunglasses and white runners, David adds a bit of edge to the collared frock.
David is one of Madonna's six children and was adopted from Malawi in 2006 with her ex-husband, Guy Ritchie. Controversy surrounded his adoption at the time, as according to Malawian law, adoptive parents are mandated to live in the East African country for at least one year before adopting. Following this, Madonna returned to the country twice more and went on to adopt her daughter Chifundo 'Mercy,' 15, in 2009, and twin girls Estere and Stella, eight, in 2017. The singer also has two biological children Lourdes Leon, 24, and Rocco Ritchie, 20.