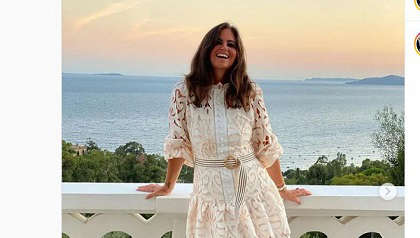 Podcaster and cancer campaigner Dame Deborah James who raised over £1.6 million for charity after she was placed in end-of-life hospice care, has died. She was 40 years old.
Dame Deborah James' remarkably frank accounts of bowel cancer led to sesimic charity donations.
Along with being the driving force behind the BBC podcast You Me And The Big C, Dame Deborah James also published her second book How To Live When You Could Be Dead, as well as continuing to campaign, inspire and help people, despite her illness.
Revealing that she was being placed in end-of-life care last month, she wrotes, "I am not brave - I am not dignified going towards my death - I am simply a scared girl who is doing something she has no choice in but I know I am grateful for the life that I have had".
Following this, Deborah James fans and people worldwide were inspired by her stories, that they helped to raise over £1.6 million for cancer. The Bowelbabe Fund currently stands at £6.8 million.
In a statement, the podcaster's family said that she "was an inspiration" and her "determination to raise money and awareness was awe inspiring".
British Prime Minister Boris Johnson also paid tribute to Dame Deborah James.
"I'm terribly saddened to hear that Dame Deborah James has died. What an inspiration she was to so many", he said.
"The awareness she brought to bowel cancer and the research her campaigning has funded will be her enduring legacy. Because of her, many many lives will be saved".
Piers Morgan also added this.
BBC Radio 1 presenter Adele Roberts who announced that she is cancer free, also paid an emotional tribute to Dame Deborah James.
"My heart hurts. Thank you for everything Deborah", she wrote. "Thank you for being so strong for so long and helping others when you were in so much pain yourself. You are the best of us".
"Thinking of your family and friends and I am forever grateful to you for helping me and my family".