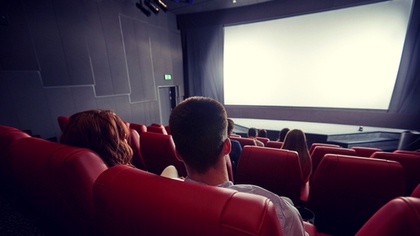 Here's your guide to the new movies opening in Irish cinemas and on home entertainment platforms this week.
An Unquiet Grave [Shudder]
A grieving widower attempts to resurrect his dead wife with the aid of her identical twin sister. One of the more interesting riffs on the classic Monkey's Paw tale, this low-budget chiller makes great use of its limited resources with its cast of just two actors giving believable performances.
Beneath the Trees [VOD]
An American woman goes camping in the British woods with her boyfriend and cousin. But it seems something else is lurking in the forest.
Dogtanian and the Three Muskehounds [Cinemas]
If you're of a certain generation you'll likely remember the classic cartoon playing on RTÉ. Well now the Muskehounds have their own big screen adventure and are hoping to win over a new generation of young fans.
Dr Bird's Advice for Sad Poets [VOD]
This adaptation of Evan Roskos's novel follows a teenage boy who travels to New York with his schoolmate/crush to find his missing sister. Oh, and he's accompanied by an imaginary pigeon voiced by the great Tom Wilkinson.
Edge of the World [VOD]
This historical drama tells the story of Sir James Brooke (Jonathan Rhys Meyers), a 19th century British explorer who fought a campaign to end slavery. Brooke's exploits also inspired the classic Michael Caine/Sean Connery adventure The Man Who Would Be King.
Fast & Furious 9 [Cinemas]
The high-octane franchise has come a long way from its beginnings as a story of an undercover cop foiling DVD player thieves. This ninth instalment introduces John Cena as the villainous brother of Vin Diesel's Dominic Toretto, and gives Helen Mirren the chance to show off her driving skills.
Fatima [Cinemas/VOD]
The story of the alleged visions of the Virgin Mary by a pair of young girls in 1917 Portugal is brought to the screen in this religious drama.
Hollywood Bulldogs [Britbox]
This documentary highlights the work of a generation of British stuntmen who found fame in the Hollywood of the '70s and '80s.
The Ice Road [Netflix]
Liam Neeson plays a grizzled trucker forced to lead a convoy of trucks on a perilous trek across frozen waters to rescue miners trapped by a diamond mine collapse. Let's hope his specific set of skills includes driving under pressure.
Kindred [Sky Cinema]
When her boyfriend dies, a pregnant young woman is taken in by his mother. But when she attempts to leave she discovers her lover's Mum has sinister intentions. Fiona Shaw gives a terrific creepy performance as the villainous matriarch.
Luxor [Sky Cinema]
Andrea Riseborough plays a British aid worker who rekindles a relationship with a local man while visiting the titular Egyptian city.
The Man Standing Next [VOD]
Based on true events, this Korean political thriller tells the story of the 1979 defection to the US by the country's director of intelligence.
Nashville [Cinemas]
Robert Altman's 1979 masterpiece has been newly restored for a big screen rerelease. With the late Ned Beatty in its ensemble cast, it's a timely release for this epic look at the lives of a group of country musicians and hangers-on who descend on the country music capital for a weekend long festival.
Shoplifters of the World [Sky Cinema]
Set in the summer of 1987, this drama sees four friends throw a party to get over their grief upon hearing of the breakup of their favourite band, The Smiths.
Silk Road [Sky Cinema]
This true life thriller tells the story of the infamous Silk Road website, an online marketplace for illegal goods and services.
Sisters with Transistors [VOD]
The female pioneers of electronic music are highlighted in this documentary.
Supernova [Cinemas]
Colin Firth and Stanley Tucci play a pair of lovers who embark on a road trip to visit old friends when the latter is diagnosed with dementia. You might want to bring some hankies for this one.
Sweat [Cinemas/Curzon Home Cinema]
A Polish Instagram star questions whether her fame is worth it when she discovers she has a stalker. First time performer Magdalena Kolesnik is an instant star in the lead role.
True Mothers [VOD]
When a couple adopts a child from an agency they're shocked when the kid's natural mother arrives on their doorstep demanding they return her child. This Korean drama will rip your heart out.