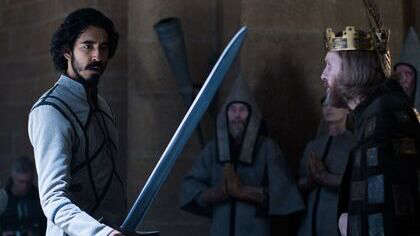 Here's our guide to the new movies opening in Irish cinemas and on home entertainment platforms this week.
The Alpinist [Cinemas]
Documentary explores the life of Marc-Andre LeClerc, a reclusive Canadian climber who constantly challenges himself by climbing the world's most dangerous mountains.
Birds of Paradise [Amazon]
Two American students become friends while studying at a prestigious French ballet school. But when they find themselves competing to win a coveted place at the Opéra national de Paris they must put their friendship aside.
Confessions of an Invisible Girl [Netflix]
In this coming-of-age drama from Brazil, a socially awkward 14-year-old girl struggles to fit in when she joins a new school.
Gagarine [Curzon Home Cinema]
When his tower block in the Parisian suburbs is evacuated for demolition, a teenage boy refuses to leave. In tribute to Russian cosmonaut Yuri Gagarin, for whom the building was named, he turns the inside of his home into a replica of Gagarin's space shuttle. This French drama is heavily inspired by the 1980s films of Steven Spielberg.
The Green Knight [Cinemas/Amazon]
Dev Patel plays the knight Gawain in this acclaimed and visually stunning fantasy based on England's Arthurian legends. To prove his worth, the feckless Gawain must embark on a quest to face the legendary Green Knight. Also available on Amazon, but this is one to be seen on the big screen.
Intrusion [Netflix]
A young couple move into a home only for their seemingly perfect life to be disrupted by a home invasion that leaves the criminals dead. The wife begins to suspect her husband has been leading a secret life that now puts them in jeopardy.
Je Suis Karl [Netflix]
When her family is killed in a terrorist attack, a German teen finds herself drawn to a right wing political organisation, unaware that it's the same group responsible for the bombing.
Mandibles [VOD]
French filmmaker Quentin Dupieux is known for his distinctively whacky movies. In his latest, a pair of criminals discover a giant fly in the boot of a stolen car. They then train the fly to rob banks. Told you he was whacky.
The Many Saints of Newark [Cinemas]
Mob drama The Sopranos gets a prequel movie that explores the early life of Tony Soprano, played here by the late James Gandolfini's son Michael Gandolfini. Set in the late 1960s, the film sees the young Tony taken under the wing of a local mobster amid racial unrest in the New Jersey city of Newark.
Oasis Knebworth 1996 [Cinemas]
This documentary gives Oasis fans a long awaited look at the legendary two concerts the band played at Knebworth in 1996. Featuring never before see concert footage, the film highlights the band at the peak of their powers.
The Paper Tigers [VOD]
This low budget martial arts movie has developed a cult following in the US and now makes its way over here. The film follows three middle-aged men who were once kung fu champions in their youth. When their old teacher is murdered, they call upon their old skills as they seek revenge.
Sparkling: The Story of Champagne [Cinemas]
Documentary takes a look at the history of the most glamorous of alcoholic beverages.
The Starling [Netflix]
In the wake of a tragedy, a married couple (Melissa McCarthy and Chris O'Dowd) find themselves drifting apart. When the wife becomes obsessed with killing a starling that constantly attacks her in her garden, she enlists the aid of an animal psychologist (Kevin Kline), with whom she forms an unlikely bond.
Together Together [VOD]
A young woman agrees to become a surrogate mother for a middle-aged man. Over the course of the pregnancy, the two form an emotional connection.
Underground [VOD]
Guilt-ridden for leaving his friend mentally and physically incapacitated in a drunk driving incident, a miner sees a chance for redemption when his friend's father becomes trapped below the earth.