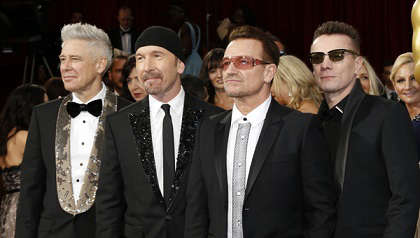 Yesterday saw U2's Bono and the Edge perform a surprise concert in a bomb shelter in Kyiv. The pair were invited to do so by the country's president Volodymyr Zelenskyy.
The pair performed a set of U2's classic tracks at one of Kyiv's subway stations which was repurposed as a bomb shelter since Russia began its invasion on February 24.
Both Bono and the Edge were showing their support for Ukraine who have been facing this invasion since late February. It was also reported that the pair began the concert by performing 'Sunday Bloody Sunday' with the sound of air-raid sirens in the distance.
The pair also performed 'With Or Without You', 'Age Of Harlem', and 'Desire'. Bono later told the crowd that there was "nowhere in the whole world that we would rather be in today than in the great city of Kyiv"
Later in the performance, Bono addressed the audience again.
"The people in Ukraine are not just fighting for your own freedom, you are fighting for all of us who love freedom", he said. "We pray that you will enjoy some of that peace soon".
After the gig, Bono and the Edge posted a message on the U2 Twitter page.
President @ZelenskyyUa invited us to perform in Kyiv as a show of solidarity with the Ukrainian people and so that's what we've come to do. -- Bono and The Edge #StandWithUkraine

— U2 (@U2) May 8, 2022