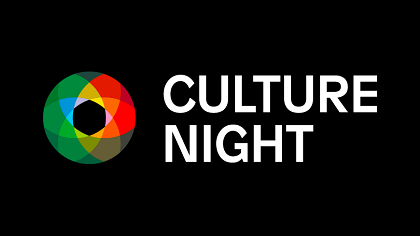 'One Night for All' - Culture Night is back with a bang for 2023 as it celebrates its 18th birthday.
Over 1,800 events are planned around the country. This year even looks set to exceed last year's participation rates of 750,000.
What originally started in 40 venues in Dublin's Temple Bar in 2006, is today an all-island celebration of the very best of our culture with thousands of FREE events happening late into the night.
This 'One Night for All' shines a light on the quality and breadth of Ireland's incredible diverse cultural offerings, while introducing audiences to new venues and emerging talent.
And again, it's all FREE.
Around the country, events for all ages and interests include:
Kids in Kildare will enjoy Fun Finger Puppets, a fun textile workshop creating animal finger puppets with designer Aideen Cross.
Stop by D-Light Studios in Dublin for a Screening of 'North Circular' By Luke McManus, a musical trip through the bustling streets of inner-city Dublin, exploring its rich history, music, and stories.
Also in Dublin, budding astronomers are invited to a night among the stars at DIAS Dunsink Observatory, in Castleknock! Dunsink is Ireland's oldest astronomical observatory and was once the home of one of Ireland's greatest mathematicians, Sir William Rowan Hamilton.
Immerse yourself in the captivating world of performance poetry at Culture Night's Queer Poetry Slam and Open Mic Night in Clare.
After a hugely successful debut in 2022, the Arts Council's book-gifting project Read Mór is back. This year, in partnership with the HSE Healthy Ireland, the campaign will bring Culture Night to those who can't take part. A curated list of 30 titles from Ireland's literary talent will be gifted to patients of 7 selected hospitals nationally.
2021 saw the introduction of Culture Night Late, a series of events running later into the night, and many into the early hours.
The initiative is presented with thanks to additional support from the Department of Tourism, Culture, Arts, Gaeltacht, Sport and Media under the Night Time Economy Taskforce.
A flavour of the acts include:
An Taibhdhearc

will once again transform Galway's Middle Street into a Pop up Gaeltacht with events and performances from acts including Tenzi Choegyai, Galaxy, 424 Brass Band and An Taibhdhearc youth actors.
In Limerick Hip Hop On Stage and Dance Limerick present Culture Shock Jam Dance featuring Afropopcity, the Irish Beatbox Association and DJ Safari.

Dublin

sees Improvised Music Company host Improvised Jazz in Smithfield, with performances by Tudo Bem, OKO and Jam Sessions with the Jazzabelles.

Cork's Marina Market

will come alive for Candy's Sweet As Circus Cabaret, a pic'n'mix of sights and splendours featuring drag royalty, circus curiosities and burlesque beauties.
Maureen Kennelly, Arts Council Director said:
"As well as the vast array of events showcasing our vibrant culture, one of my favourite things to see on Culture Night is generations of families and groups of friends, young and old, coming out to explore together and enjoy the richness and diversity of Ireland's culture today.
"We in the Arts Council, as stewards, are delighted to bring this important collective cultural experience to life. This year we are celebrating Culture Night's coming of age and I encourage everyone to come out on Friday September 22nd, have fun and wish Culture Night a happy 18th birthday!"
For the full programme of events happening all over Ireland, click here