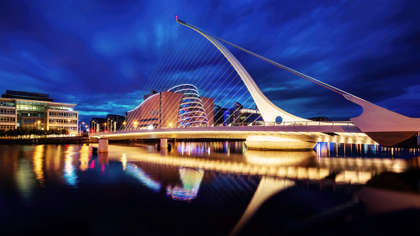 Hundreds gathered at the Samuel Beckett Bridge on Wednesday to protest the government's new rules regarding the reopening of indoor dining.
Yesterday The Health Amendment No 2 Bill was passed by 74 votes to 68. The bill means that only those who can prove they have been fully vaccinated or have recovered from COVID-19 will be allowed to dine indoors. The bill will be the subject of a debate in the Seanad today.
Angered at the passing of the bill, hundreds of protesters made their way to the Convention Centre to express their outrage last night. The crowds were heard chanting "No vaccine passports" while banners read "We will not comply" and "My body, my choice."
Gatherings were also held in France and Greece to protest similar legislation in those countries.
Opposition TDs have expressed their frustration at the bill, which many deem discriminatory.
People Before Profit's Paul Murphy accused the government of creating "divisions in society" and "undermining the vaccine effort."
Sinn Fein Health Spokesperson David Cullinane said the government pushed through the bill in "the most arrogant way… without even having asked the opposition what the alternatives were, without even being interested in what the alternatives are."
Under the new rules, indoor dining is expected to resume no later than July 26th.