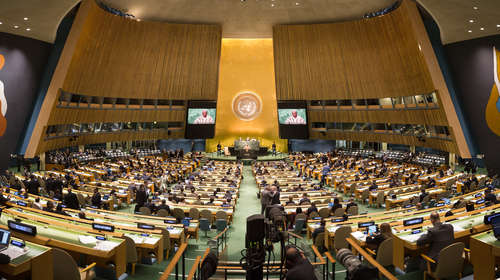 The United Nations' General Assembly is holding its first emergency session in decades today amid the escalating conflict in Ukraine.
The meeting is allowing for all 193 member nations to express their thoughts about the conflict. Later this week they will each have a vote on a resolution that would "hold Russia to account for its indefensible actions and for its violations of the UN Charter," according to US ambassador Linda Thomas-Greenfield.
A meeting is also being held by the 15-member UN Security Council. The meeting was requested by French President Emmanuel Macron and will focus on the humanitarian impact of Russia's invasion, now in its fifth day.
French ambassador Nicolas De Riviere said that along with Mexico, his country would draft a resolution "to demand the end of hostilities, protection of civilians, and safe and unhindered humanitarian access to meet the urgent needs of the population." It is expected to go to a vote tomorrow.
"We are alarmed by the mounting reports of civilian casualties, videos of Russian forces moving exceptionally lethal weaponry into Ukraine, and the widespread destruction of civilian facilities like residences, schools and hospitals," America's UN ambassador Thomas-Greenfield said. "To the Russian officers and soldiers, I say: the world is watching. Photographic and video evidence is mounting, and you will be held accountable for your actions. We will not let atrocities slide."
Russia's UN ambassador Vassily Nebenzia accused the council of failing to "even hint at an attempt to reach a constructive solution," and also accused Western media of spreading misinformation.
"Once again we hear lies, deceit and fakes about the indiscriminate shelling of Ukrainian cities, hospitals and schools," he said. "The Russian army does not threaten civilians in Ukraine. It is not shelling civilian infrastructure."
Ukraine has reported over 100 civilian deaths, including seven children.