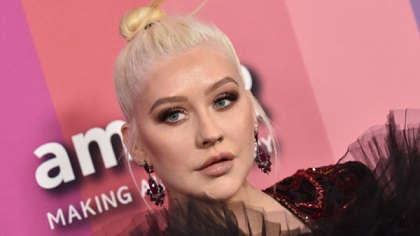 The 40-year-old teases major career return with cryptic video!
Christina Aguilera gave fans plenty to be excited for as she shared an unexpected clip on her social media. Through a 15-second snippet, the Dirty singer shared a snippet of footage to give fans a taste of what is to come on her Latin album.
Within the clip, two identical, braided women walk into a crowded and dimly lit bar, to the sound of sultry-sounding guitar strings. Based on the comments from her Instagram post, Kylie Jenner's former assistant, Victoria Villarroel, along with her sister Sofia, might be the two female leads in the visual. Founding the Gonza swimwear brand with Aguilera, the two sisters also reposted Aguilera's video on their respective IG Stories.
The clip led fans to believe that the 41-year-old singer is finally releasing new music since Loyal Brave True and Reflection from the 2020 version of Mulan. The clip also suggests the upcoming material might just be her "overdue", second Spanish-language album following 2000's Mi Reflejo.
The news instantly sent fans into a frenzy as celebration and speculation grew over the singer's long-awaited return to music. One commented: "Yeeeee here she comes!!!!", while another wrote: "OMG QUEEN! WE LOVE U. WELCOME BACK." A third added: "IM SHAKINGG OMG," with one saying: "LAXTINA IS COMING!!!!!! IKTR," with several others using the "Laxtina" moniker as well.
If speculation proves to be true, this would be Christina's second Spanish album, following Mi Reflejo, and her first studio record since 2018's Liberation. In April, Xtina revealed she was working on her "overdue" second Spanish-language album. Mi Reflejo peaked at #27 on the Billboard 200 and ruled the Top Latin Albums and Latin Pop Albums charts.
"It's a big deal right now and it's really nostalgic and part of my Latin culture and history," she told Billboard in an interview in July. "So, this is really, really fun to get into some family roots and explore who I am now as a woman musically. Things are coming from a different approach".
The Beautiful singer recently provided vocals to a different kind of project, singing her own version of the Addams Family Theme for the new animated film. Sharing a clip to social media, Christina captioned; "Halloween celebration start now... @meettheaddams. My version of the iconic Addams Family theme song will be available Oct 1 on the official #AddamsFamily2 soundtrack!"
Fans instantly fell in love with her rendition and made it known in the comments, as one wrote: "Officially the queen of Halloween," and another said: "OHHH MYYY I love it."