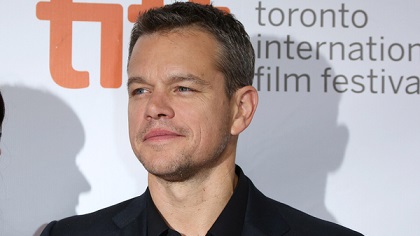 Matt Damon will make a very special guest appearance at a Dalkey event
Ireland's adopted son, Matt Damon just cannot seem to get enough of the Emerald Isle, following months spent here filming. The Last Duel star stayed here after recording and has been spotted in local coffee shops and restaurants, all over Dalkey. The actor even made time to go for a drop in the sea, resulting in the iconic 'Supervalu bag' photo.
Now it looks like the star will be in the South Dublin town again for a guest appearance at this year's Dalkey Book Festival. Matt will be speaking with Irish journalist, David McWilliams on June 20th about his time spent in Ireland and his 'hometown', Dalkey. The actor will share the story behind his infamous 'bag of cans' moment, his favourite sandwich from The Country Bake, and his love for the Emerald Isle.
Fans will get to see Matt up close and personal from the comfort of their home as the event will also be livestreamed. Matt spent a time in Ireland in 2020, staying at the luxurious mansion of former Formula One drive Eddie Irvine. He will be chatting about all the things he loved during his time here, after previously saying, "It's incredible. This is one of the most beautiful places we've ever been".
"Even in the lockdown, they're like, 'You got to stay within two kilometres of your house". Two kilometres here, there's trees and forests and woods and ocean and I can't think of any place you'd rather want to be in a two-kilometre radius of."
Matt will join other guest speakers at the Dalkey Book Festival, including Professor Brian Cox, President Michael D. Higgins, international best-selling author Isabel Allende, and exiled Russian businessman Mikhail Khodorkovsky. The event will be livestreamed from the Martello Tower with Matt Damon making his appearance through a video link. Tickets available here.