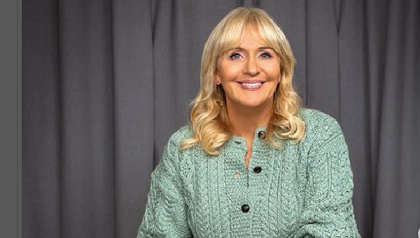 Miriam O'Callaghan has ruled herself out of the running to become the new Late Late Show presenter.
Speculation has been gathering pace about who will take over from Ryan Tubridy, who announced last week that he would step down as host of the show at the end of the current season.
Tubridy's final hosting of the show takes place on May 26.
Taking to social media, O'Callaghan who presented the show temporarily during the Covid pandemic, has insisted that she will not be putting her hat in the ring to become the new permanent host.
"The Late Late Show is an incredible programme," she wrote. "It's not just the jewel in the crown of Irish broadcasting, it's also an institution stitched into the fabric of Irish life. Ryan has done a tremendous job of presenting it for the last 14 years".
"Although the speculation about me being one of the favourites to take over The Late Late Show is very flattering, that won't be happening as I'm not throwing my hat into the ring to be considered".
She added, "I love what I do too much on Prime Time to leave it," she insists, "and what we do in current affairs as a team really matters, and can actually change lives".
A little news - just to stop all the questions, including from my wonderful Mum 🥰 pic.twitter.com/9nTp5A5baW

— Miriam O'Callaghan (@MiriamOCal) March 21, 2023
O'Callaghan also said in a statement, "I've been lucky enough to present the iconic Late Late Show twice, and I loved the experience. I wish whoever does go for the job the very best – it's a brilliant opportunity and very exciting. I also wish my heartiest congratulations in advance to whoever gets it – what a joyous role, enjoy!".