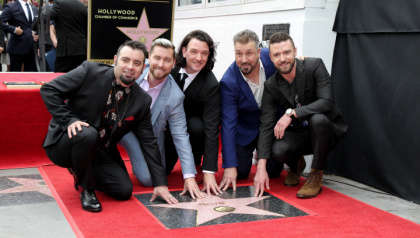 NSYNC have announced new single 'Better Place', their first material in two decades.
'Better Place' marks the reunited band's first release by *NSYNC since 2002, who comprised of singer & actor Justin Timberlake, JC Chasez, Chris Kilpatrick, and Lance Bass.
*NSYNC eventually parted ways in 2007, with Timberlake going on to enjoy a hugely successful solo career, with hits like 'Sexy Back', 'Rock Your Body', 'Mirrors', and 'CAN'T STOP THE FEELING', among others.
Recently, the band reunited at this week's MTV VMA Music Awards, where they presented Taylor Swift with the Best Pop Award, one of 8 that the US singer won on the night.
Their comeback single had been teased by the band via posters which were released for the third Trolls film, Trolls Band Together. The *NSYNC logo featured heavily in the promos, along with a QR code, showing fans a snippet of music on the website.
'Better Place' features in the film's trailer, with the track being officially released on September 29.
Check that out below.
The brand new trailer for 'TROLLS BAND TOGETHER' is finally here. #TrollsBandTogether

In theaters on November 17th.pic.twitter.com/Ef0beoJL8V

— Sammon News (@SammonNews) September 14, 2023