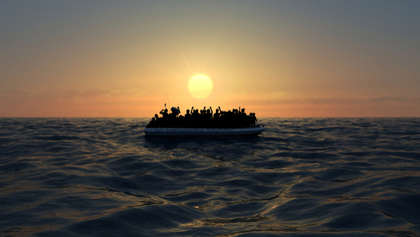 A boat carrying migrants capsized off the coast of Tarfaya in southern Morocco, with 43 people drowning.
10 people were rescued according to Spanish organisation Caminando Fronteras, which tracks boats under distress. Three of the victims were infants.
The death toll is based on the testimonies of survivors and communication with victims' families. Just two bodies had been recovered by Tuesday morning.
Survivors say they called the Moroccan authorities on Sunday morning with a plea for help and were in communication for two hours.
"It took hours for the [Moroccan] authorities to locate and save the boat," a statement from Caminando Fronteras said.
The migrant boat was headed for the Spanish Canary Islands, approximately 100km from where it capsized.
Caminando Fronteras believes that over 4,000 migrants died or disappeared while attempting to reach Spain last year, double the figure for 2020.
Spain's interior ministry claims that over 373,000 migrants entered the country via the sea last year.
Due to its proximity to Spain, Morocco is the main exit point for migrants attempting to leave Africa for Europe.