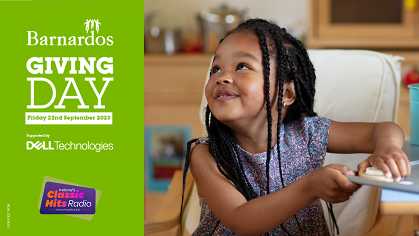 Ireland's Classic Hits Radio is delighted to support Barnardos Giving Day this Friday, the 22nd of September kindly supported by Dell Technologies.
We're all feeling the cost of living crisis but for parents who are already struggling to cope, decisions like having food in the fridge or heating your home is a daily reality!
Barnardos staff across the country work hard every day to help put smiles back on the faces and the light back into the eyes of the most vulnerable children in Ireland, so they can have the same opportunities as every other child.
In this time of crisis, Barnardos need your support more than ever so we are asking listeners to show the love for these vulnerable children and their families by donating what YOU can. Because childhood lasts a lifetime.
To donate www.barnardos.ie/donate
For more information visit barnardos.ie proudly supported by Ireland's Classic Hits Radio.