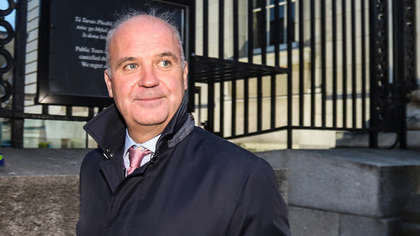 Chief Medical Officer Dr Tony Holohan presented the Oireachtas Committee with an update on the country's COVID position this morning.
Holohan said Ireland is in a positive position but that globally, the risk remains high.
He warned that more concerning variants may emerge in the future.
Holohan told the committee that we have passed the peak of the Omicron wave but the incidence rate of the virus remains high. He noted that hospitalisations and the numbers in ICU have fallen.
"The number of Covid-19 patients in receipt of advanced respiratory support in hospital settings outside of ICU has also reduced," he said. "The evidence in relation to Omicron as well as our experience of it, indicate that the burden of severe health outcomes appears reduced compared to previous waves of infection. In addition, overall Covid-19 related mortality remains relatively stable."
Holohan credited the high vaccine uptake with helping the nation get to its current position.
"We are in this much improved situation as a result of the population's engagement with the vaccination programme, and the booster programme in particular, and high levels of adherence to public health measures, as well as the reduced virulence of Omicron," he said.
However, Holohan warned that some health measures will be required to remain on an ongoing basis.
"In advising that social and economic restrictions could be removed, the NPHET stressed that the pandemic is not over and that with a significant level of infection nationally, Covid-19 still poses a risk to public health," he said. "In this regard, there will be an ongoing need to retain some public health measures to reduce risk. Protective measures should remain in place in primary and secondary schools, masks should continue to be worn in all settings where currently regulated for, and we must continue to encourage everyone to complete their primary and booster programmes of vaccination."
The CMO urged anyone who still hasn't received a vaccine or a booster to do so.
"I would urge anyone who has not yet received their booster dose or completed their primary course of vaccination to do so as soon as possible," he said. "The main purpose of vaccination has always been to prevent serious illness and death – Covid-19 vaccines continue to prove remarkably effective in this regard, especially for those who received their booster."