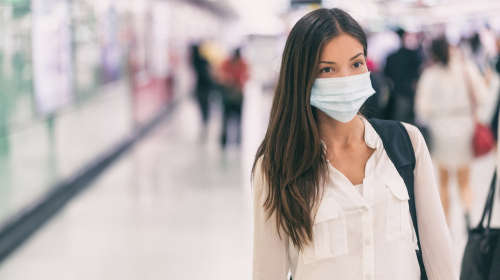 The requirement to wear face masks in most indoor settings could be scrapped as soon as next week.
The National Public Health Emergency Team is set to meet on Thursday to review the latest data around COVID.
Sources have said they expect NPHET to advise the government that mask wearing can be lifted, including in schools.
A Cabinet meeting is not expected to be held on Friday however, meaning the rule will likely remain in place until next week.
It is expected that while the government will no longer legally require the wearing of masks on public transport and in indoor public settings, it will still recommend the optional use of masks for now.
"Irrespective of whether it is mandated or not, I would recommend that people would wear masks in retail and public transport for some time yet," Taoiseach Micheál Martin said last week. "But the news is good in respect of the Omicron variant."
Martin said his personal feelings would not influence the government's decision.
Masks will still be required for air travel, which is under the jurisdiction of the EU.
NPHET is expected to be scaled back as the country exits the emergency phase of the pandemic.