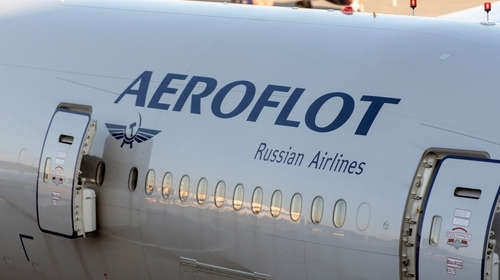 Russian aircraft are set to be denied access to Irish airspace in the latest move by the government to punish Russia.
A brief notice period will be in place before the move is enforced by the Irish Aviation Authority.
Aeroflot's weekly flight from Dublin to Moscow has been suspended until May.
The move was welcomed by the Ukrainian Ambassador to Ireland, Larysa Gerasko, who tweeted "Thank you" in response to the announcement by Minister for Foreign Affairs Simon Coveney.
"Shocking Russian attacks on Ukraine overnight," Coveney tweeted. "Ireland will move to shut off Irish airspace to all Russian aircraft. We encourage other EU partners to do the same. We also support new wide-ranging sanctions to be agreed today at EU FAC (Foreign Affairs Council) and new assistance package for Ukraine."
The EU FAC is expected to agree further measures to assist Ukraine and hamper Russia.
"I will propose a package of emergency assistance for the Ukrainian armed forces, to support them in their heroic fight," said EU Foreign Policy Chief Josep Borrell.
Irish citizens are now being advised to avoid all non-essential travel to Russia.
"Due to the ongoing disruption to flight services to and from Russia, the Department of Foreign Affairs is advising citizens to avoid non-essential travel to Russia at this time," the Department said in a statement. "Further flight cancellations and uncertainty on travel routes from Russia are expected in the coming days."