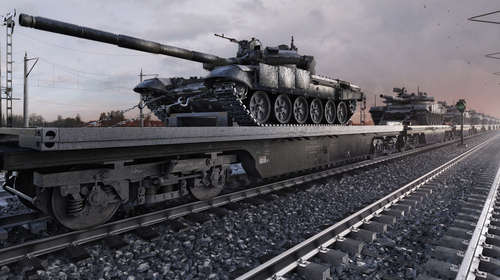 Russia claims it is withdrawing some of its forces from near the Ukraine border.
The move would be the first major indication that the crisis between Russia and Ukraine could be de-escalating.
More than 100,000 Russian troops had been positioned along the country's border with Ukraine, with fears of a full-scale invasion expressed by world leaders.
Russia's defence ministry announced on Tuesday morning that some of its troops at the border were in the process of packing up to leave.
"Units of the Southern and Western military districts, having completed their tasks, have already begun loading onto rail and road transport and today they will begin moving to their military garrisons," a spokesperson for the ministry said.
The number of troops withdrawing is unclear.
Ukraine has credited its diplomatic efforts with Western allies in averting a Russian invasion.
"We and our allies have managed to prevent Russia from any further escalation," said the country's Foreign Minister Dmytro Kuleba. "It is already the middle of February, and you see that diplomacy is continuing to work."
German Chancellor Olaf Scholz is set to hold talks with Russian President Vladimir Putin today.
"The responsibility for de-escalation is clearly with Russia, and it is for Moscow to withdraw its troops," German Foreign Minister Annalena Baerbock said ahead of the talks. "We must use all opportunities for dialogue in order to reach a peaceful solution."
UK Foreign Secretary Liz Truss expressed scepticism when told of the partial Russian withdrawal.
"Certainly, our latest intelligence suggests that an invasion is imminent, that it's highly likely, and that we've seen 100,000 troops stationed around the border," she said. "Separately, the Russians have claimed that they have no plans for an invasion, but we will need to see a full-scale removal of troops to show that is true."