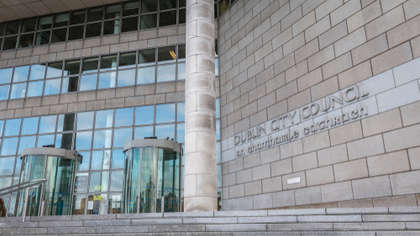 Students protested outside Dublin City Council this afternoon to show their disdain for comments made by DCC CEO Owen Keegan.
Keegan had sent a letter to UCD Students' Union President Ruairí Power in which he suggested that the students' union should become developers themselves so as to provide "lower cost student accommodation for its members."
Keegan's comments were branded "disgusting" by the students' union.
This afternoon saw scores of students descend on the council's Wood Quay building. Representatives of student unions were accompanied by politicians including Sinn Féin's Rose Conway-Walsh, Richard Boyd Barrett of People Before Profit and Councillor Cat O'Driscoll of the Social Democrats.
Conway-Walsh called for Keegan's resignation.
"No right-minded person could stand over what he said the other day, I think his comments were beneath contempt, for somebody in his position who is responsible for the delivery of accommodation in Dublin," she said. "I think it makes his position untenable. I'm not in the business of calling for people to resign but I was absolutely shocked. It took me hours to even think that someone could say what he said."
DCC's housing committee held a meeting today to discuss Keegan's comments, with some councillors calling for the CEO to apologise for his remarks while others, including Sinn Féin's Daithí Doolan and Independent Cieran Perry, asked for his resignation.