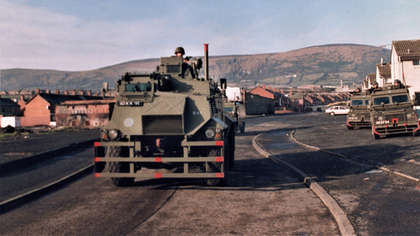 The trial has begun of a British army veteran charged in relation to a fatal shooting in Northern Ireland.
80-year-old Dennis Hutchings is a former member of the Life Guards regiment.
He is charged with the attempted murder of John Pat Cunningham in Co Tyrone in 1974, along with a charge of attempted grievous bodily harm with intent. The veteran has pleaded not guilty to both charges.
Cunningham, who had learning difficulties, was 27 when he was shot dead after running from a British army patrol near Benburb.
Hutchings is known for his campaigns against the prosecution of British army veterans who served in Northern Ireland during the Troubles.
Due to suffering from kidney disease, Hutchings' trial at Belfast Crown Court will only sit for three days a week to allow the pensioner to receive dialysis treatment between hearings.
After losing a 2019 bid to have his trial heard by a jury, Hutchings will now face a non-jury trial presided over by Mr Justice O'Hara.
The trial was due to take place in March of last year but was delayed due to the pandemic.
With the UK government planning to end prosecutions relating to the Troubles, the trial of Hutchings could be the last of its kind.