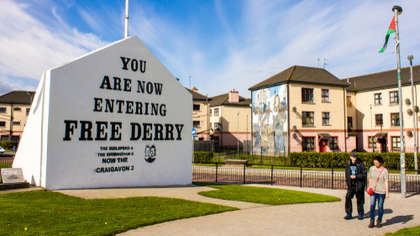 Taoiseach Micheál Martin and President Micheal D. Higgins are among those who have paid tributes on the 50th anniversary of Bloody Sunday.
Martin travelled to Derry to take part in a remembrance walk involving relatives of the 14 victims.
"Today we remember all those who died or were injured as a result of the atrocity on Bloody Sunday, one of the darkest days for this island," said Martin, who laid a wreath at a ceremony to mark the anniversary. "We also pay tribute to the families of the victims, whose dignity and persistence in the search for truth and justice has never wavered."
Higgins is set to deliver a pre-recorded video address on Sunday at the Breaking the Silence commemorative event.
"50 years ago today, in one of the shaping events of our modern shared history, thousands of men and women set out from the Creggan to march for civil rights," Higgins will say in the video. "Fourteen people ultimately lost their lives, and many more were injured, as a result of what unfolded on the streets of Derry that day. As we listen to their names being recited with deep sadness today, we remember them, and those tragic events, not simply as history on a page, but as part of the living memory of so many of the people of this city, and indeed of this island. Just as the families of those lost that day have done throughout their long years of campaigning, we remember too all of the families who lost loved ones to violence during the Troubles."
Tánaiste Leo Varadkar also released a statement on the anniversary.
"We salute the courage and perseverance of the victims and their families who have campaigned tirelessly for justice and who continue to do so today," he said. "Their tenacity serves as an example to other Troubles-related victims to never give up the fight for justice. We pledge to honour the memory of those who died on Bloody Sunday by standing with all victims of the Troubles and continuing to work for permanent peace on our shared island."