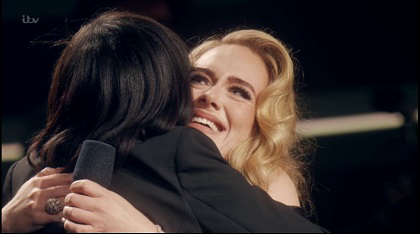 There was not a dry eye in sight as Adele was remarkably reunited with her former teacher during last night's TV special An Audience With Adele.
During the show which saw Adele sing in front of a star studded audience with the likes of David Tenant, Alan Carr, Emma Thompson and Stormzy in attendance, Adele was asked by Emma Watson about who inspired her when she was young.
Adele revealed that she was inspired by her former teacher at Chestnut Grove School, Miss McDonald. Miss McDonald taught Adele for a year.
"I had a teacher at Chestnut Grove who taught me English, Miss McDonald", Adele told the audience. "She was so bloody cool, so engaging. She really made us care and we knew that she cared about us".
It was at this point that Harry Potter star Watson revealed that Miss McDonald was in the audience, which led to Adele bursting into tears as the pair reunited on stage.
The pair embraced and chatted as Adele asked her for her phone number, before continuing with the performace. She had to take a five minute brake to fix her make up following the tears. At this point, comedian and friend Alan Carr entertained the audience by pretending to sing Adele's track "Feel My Love".
Home Sweet Home. I've always dreamt of doing An Audience With… There was so much love in the room for eachother, it felt like such a gig! Everyone was raucous and bang up for it! And my teacher Ms McDonald was there, it was just heaven ♥️ pic.twitter.com/N1LpkQbeoh

— Adele (@Adele) November 21, 2021
Fans React to Adele's Reunion With Teacher
As you could imagine, fans reacted in their droves online to that sweet reunion.
One fan wrote, "Adele having an english teacher who she'll never forget obviously brought me to tears in mere seconds #AnAudienceWithAdele".
"That was such a beautiful moment with her school teacher. I'm in tears. #Adele #AnAudienceWithAdele", another added.
Another viewer wrote, "Oh my goodness, Adele telling Emma Thompson about her most inspiring teacher, and she's THERE in the audience! Tears all round now Loudly crying face in bits! #AnAudienceWithAdele".