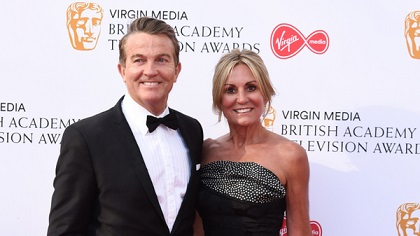 The cheeky Chase star heckled Romesh Ranganathan as he collected his Best Entertainment Performance award on Sunday.
Bradley Walsh threw a 'tantrum' at Sunday's BAFTA ceremony, when The Chase star lost out on an award. Walsh heckled actual winner, Romesh Ranganathan as he collected his award until the British comedian yelled, "shut up".
Bradley's evening show, Beat The Chasers lost out to eventual winner, Ranganathan and his show, The Ranganation. Viewers were left in hysterics when the 61-year-old appeared to jokingly jeer Romesh as he walked to the stage to collect the Best Entertainment Performance award.
As Romesh took to the stage, Bradley pulled down his mask and yelped, "I can't believe it", before letting out a loud wolf whistle. A tongue in cheek moment saw Romesh shout "shut up" at The Chase presenter, before going on with his unprepared speech.
"Wow thank you so much. I really didn't expect to win, well there was a good chance...It was much easier for me to do the show this series because I just had to do it from my garage. In many ways I feel like I've put in less effort for more reward. That's what life's all about in showbiz."
Following Romesh finishing his speech, Bradley mouthed to the camera; "this is a joke", which fans watching from home found hilarious. One person took to Twitter to say: "Bradley Walsh mouthing to the camera 'I can't believe it.' And then heckling the winner had me howling! #baftas". Another user tweeted: "Bradley Walsh [laughing faces] #BAFTAs," while a third added: "#BAFTAs Bradley dissing Romesh hahaha."
In other BAFTA news, Michaela Coel was the big winner at Sunday's ceremony, which was hosted by comedian Richard Ayoade at London's Television Centre. Coel took home Leading Actress for her starring turn in I May Destroy You, which also triumphed in the Mini-Series category.
In her acceptance speech, Coel praised I May Destroy You's intimacy coach, Ita O'Brien. Multi-skilled Michaela said O'Brien's presence allowed her to make a series about "exploitation, loss of respect, about abuse of power without being exploited or abused in the process."
Less effort, more reward ✔️ great year for @RomeshRanga picking up the Entertainment Performance #VirginMediaBAFTAs award for going to his garage! 🏆 pic.twitter.com/4yD8Akc8KB

— BAFTA (@BAFTA) June 6, 2021