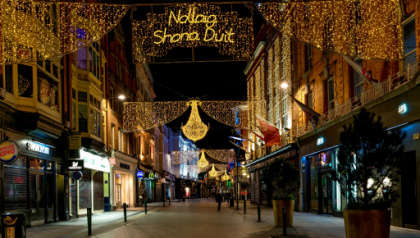 The time that Christmas lights are to remain on each night in Dublin is to be reduced amid the growing energy crisis, according to reports.
A spokesperson for buisness group DublinTown who operate the Christmas lights each year has revealed that the length of time times for lights remaining on for will be cut, due to the ongoing energy crisis.
Usually the timings for which the lights will be turned on for, vary from street to street in Dublin, with Grafton Street for instance switching their lights on at 7am each day in the build up to Christmas, while most streets usually switch their lights on at 2pm.
However, reports have suggested that the lights on each street will be switched on at 4pm, before switching off at 2am.
"The past two years have been very difficult for us all. Children have had their Christmas experience curtailed during the pandemic", DublinTown CEO Richard Guiney. "We believe that it is important that memories are created and that people have a joyous festive season to look forward to".
Guiney also insisted that the group is "conscious of the displays' low energy consumption and will consider the daily duration of the illumination".
He also added, "However, we have invested over the past 13 years in high quality, energy efficient lights that provide that additional sense of excitement throughout the city. The lights on our main streets have become iconic and we want to ensure that everyone has the chance to enjoy the city's unique Christmas atmosphere at this special time of the year".