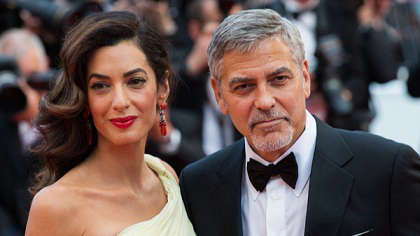 NOT FOR ALL THE NESPRESSO BEANS IN THE WORLD! Hollywood actor, George Clooney declined an offer for him to star in an airline commercial after discussing it with his wife.
American actor, filmmaker, and coffee connoisseur George Clooney claims he turned down $35 million for one day of work. The Hollywood actor had been requested to star in an airline commercial, but he felt that "it's not worth it" following a discussion with his wife. In an interview with The Guardian, Clooney had been asked if he ever thought, "You know what? I think I have enough money."
"Well, yeah," the actor responds. "I was offered 35 million dollars for one day's work for an airline commercial, but I talked to Amal about it, and we decided it's not worth it. It was (associated with) a country that, although it's an ally, is questionable at times, and so I thought, 'Well, if it takes a minute's sleep away from me, it's not worth it'."
Although $35 million is life-changing money for some, the star will not be left short from turning the offer down. In addition to his lucrative movie deals, the icon has reportedly earned more than €35 million through advertising Nespresso coffee. Clooney previously sold his tequila company, Casamigos, for $1 billion (€885.5 million). According to the Celebrity Net Worth website, Clooney ranked as 2018's world's highest-paid actor with a net worth estimated at $500 million (roughly €450 million).
Clooney said it "surprised and saddened" him to hear the alleged discovery of child labour on farms used by coffee giant Nespresso. In a statement last year, the actor revealed that "having grown up working on a tobacco farm from the time I was 12, I'm uniquely aware of the complex issues regarding farming and child labour".
Chief executive officer of Nespresso, Guillaume Le Cunff, released a statement which said the company "has zero tolerance of child labour. It is unacceptable. Where there are claims that our high standards are not met, we act immediately. Any issues we uncover will be dealt with diligently and firm action will be taken."