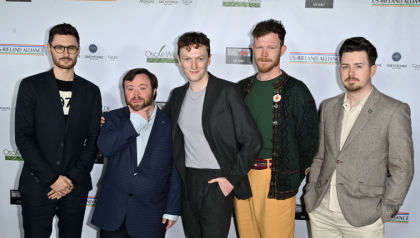 The father of An Irish Goodbye star James Martin, has spoken of his delight at his son's and the film's recent triumph.
An Irish Goodbye which sees two estranged brothers played by James Martin and Seamus O'Hara reunite to fulfill their late mother's bucket list, won an Oscar for Best Live Action Short Film at last weekend's ceremony.
It was directed by Ross White and Tom Berekely.
Ivan Martin the proud father of star James, paid tribute to his son in a recent interview, which saw him admit that there were concerns over whether he would be able to speak when he was born.
"So here we are – James not only speaks, once he started speaking he hasn't shut up since", Mr Martin revealed. "All I ever wanted was for James was that he'd be happy and, I tell you what, he's happy now", adding. "It's been a journey".
"You get to the Oscars and everybody keeps saying the prize is getting there but, truth to tell, you want to win".
"It's an amazing feat. It's something that nobody can ever take away from him. When you're the first to do anything, it's there for life and that's how it is with him", Mr Martin continued.
"And I had my doubts about it because one of the opposition films was a Disney film and they had in the last week… they had really been ramping up the promotion for it", he said. "But calm heads won it in the end and An Irish Goodbye (is) a film we can all be proud of", he said of his initial concerns over the film's potential to win. "It's just crazy. But there were a few tears shed but what an achievement, just delighted".
Congratulations to the Oscar winning cast and crew of @AnIrishGoodbye_ 👏🏻

Lovely to see actor James Martin and @RossJWhite representing the best of NI arts and film at the #Oscars

Supported by the Arts Council @CommunitiesNI @NIScreen & @Lottogoodcauses https://t.co/ufs01G5VsS

— Arts Council of Northern Ireland (@ArtsCouncilNI) March 13, 2023