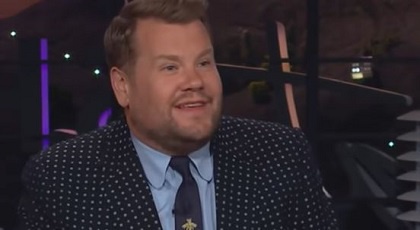 TV presenter James Corden is facing a backlash following an offensive segment to his talk show, The Late Late Show.
Corden's "Spill Your Guts" segment has sparked huge criticism. This show sees celebrities face a choice between eating something "disgusting" or answering awkward questions.
Many of these foods that celebrities could eat include traditional Asian dishes.
'incredibly culturally offensive',
This has led to a petition being launched, which calls for the removal the segment compeletly. The petition has been placed on change.org and calls the segment 'incredibly culturally offensive', "insensitive" and adds that it "encourages anti-Asian racisim".
"The Late Late show averages over 650,000 viewers per episode", the petition reads. "That means, 650,000 people are being influenced to think that native foods from Asian countries are "disgusting," or "horrifying." Content like this continually perpetuates and encourages harm and racism against Asian Americans in our daily lives".
The petition also added, "We are holding James Corden and The Late Late Show accountable for their actions, and perpetual harm this segment causes to Asian American communities. At the very least, Asian American communities deserve an apology and this segment to be taken off the air".
Along with the segment's removal, the petition has also called for an apology to be issued and for funds to be donated to local Asian-American organisations that work towards helping Asian-owned restaurants and small business.
The segment that was mentioned specifically comes from an episode of Corden's Late Show from 2016 featuring Jimmy Kimmel. Check that out below.
"Oh my gosh this is my culture"
The petition was launched by Kim Saira who explained to Good Food why the segment is offensive to her culture. Saira also shared her views of the segment via Tik Tok. Check that out below.
"I noticed that one of the foods that he presented to someone was balut (a fertilized duck egg that is boiled and eaten from the shell), and balut is like, very specific to Filipino culture", she said.
She continued, "It's a food that I have been eating whenever I go to the Philippines with my grandma and my cousins, so it's a very sentimental food to me, and I noticed that he was presenting it to a guest and calling it gross".
"I was just so confused and I feel like it was a moment of me just being like, 'Oh my gosh, like, this is my culture. I don't understand why he's making fun of it?'", she added.
The Spill Your Guts segment featured Jimmy Kimmel, who Sairi also accused of being transphobic and racist in the past.
Back in December, Corden had admitted that when his contract with the show runs out in August 2022, he will consider his options.
"I have a couple of years to go on this contract. Ending the show will always be a bigger family decision than a professional one", he said.
"It will be about people at home who we miss very, very much, who we are homesick for. I also feel like my wife and I have three young children, and they are three young grandchildren that we've taken away from people".