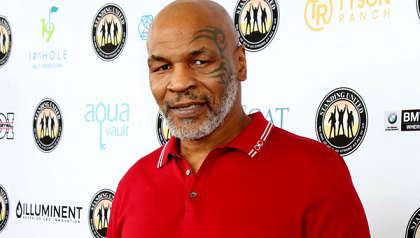 Mike Tyson reportedly punched a man in the face repeatedly on a plane to San Francisco.
This incident was captured on a mobile phone and shared via American website TMZ, which appeared to show the former World Champion boxer hitting a man who was sitting behind him on the plane.
A representative of Tyson's told the Associated Press, "Unfortunately, Mr Tyson had an incident on a flight with an aggressive passenger who began harassing him and threw a water bottle at him while he was in his seat".
A source close to Tyson had said that the victim "wouldn't stop provoking" Tyson and was "extremely intoxicated".
Tyson had boarded the plane heading for Florida, but left shortly after the altercation. A witness had also said that he and his friend had stopped Tyson to ask for a selfie with them, and former boxer was only too happy to oblidge.
However, things began to turn nasty when a man in the seat behind Tyson tried to talk to him, leading Iron Mike to lose his cool. The victim has suffered cuts to his forehead, and sought medical treatment, before speaking to the police.
The man was captured in the footage standing over Tyson's seat, shouting "hey, hey, hey, hey Mike, come on, let's stop that".
San Francisco Police released this statement after responding to the incident, "Officers arrived and detained two subjects that were believed to be involved in the incident. One subject was treated at the scene for non-life-threatening injuries".
"That subject provided minimal details of the incident and refused to cooperate further with the police investigation".
The statement also revealed that the pair were later released pending further enquiries.
Mike Tyson had been in San Francisco to promote his cannabis brand Tyson 2.0 at the annual 420 cannabis festival in Golden Gate Park. Tyson has become a cannabis entepreneur following his retirement from boxing in 2005. He has also worked as an actor, (Hangover) and podcaster.