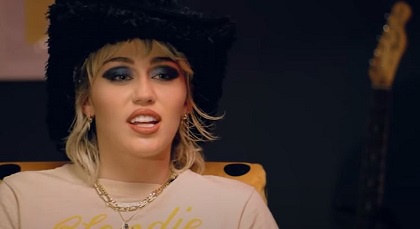 Miley Cyrus has said that she would love to work with Billie Eilish. Cyrus is no stranger to collaborating with top artists, having worked with Elton John, Mark Ronson, Dua Lipa and Stevie Nicks in the past.
"There are always new emerging artists that are super interesting", Cyrus told British Vogue.
"I love Billie Eilish", she continued. "I think she's just the coolest. I love her, her messaging. I'd love to work with her".
Cyrus is also set to headline this year's Austin City Limits Festival alongside Eilish. Stevie Nicks will also headline the festival. The event is to run across two weekends in the city's Zilker Park between 1-3 and 8-10 October.
The singer may not have worked with Eilish, but she did release a cover of a Billie Eilish track "My Future" at the Live Lounge last year.
Check that out here.
The singer also performed her own single "Midnight Sky".
Nashville & vaxxed
Miley Cyrus is to also host a free concert for people who have been fully vaccinated in Nashville to celebrate Pride Month. "If you're in Nashville & vaxxed: come celebrate pride month with me and some v special friends!", the singer tweeted.
If you're in Nashville & vaxxed: come celebrate pride month with me and some v special friends! Request here 🌈🌈🌈 gonna be singing covers and original songs with hand picked guests who are a part or allies of the community! https://t.co/rIRiuMHjzf

— Miley Cyrus (@MileyCyrus) June 4, 2021