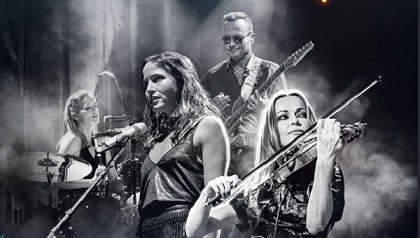 The Corrs are planning a major comeback, according to the family themselves.
This was announced by Andrea Corr, who made this revelation during the band's successful "one night only" concert in Australia, their first show of any description since 2017.
"We''ll be back next year", declared Andrea at the show. They also promised "our biggest hits and the songs that people really responded to in Australia, and a fair amount of Irish stuff as well".
The show itself saw the Corrs take to the stage at the Hunter Valley's Hope Estate Winery in New South Wales, where the band performed hits such as So Young, Radio and What Can I Do among others.
Ahead of this gig, the famous famiy who have sold 45 million records in their time, admitted that they suffered from pre show nerves in the build up.
"It is quite daunting going to do a big venue, especially since we haven't toured since 2017. But we are a band who do this to ourselves", fiddle player Sharon Corr said. "We do a couple of records. We tour and then we stop. Then we have to do it all over again, and go out and try and get a feel for these big venues".
"expensive tour"
Sharon also added that the Corrs who also include sisters Andrea, Caroline and brother Jim, have an "amazing relationship with Australia, where they enjoyed their first hits, there was "no better place to start off again".
Since their hitmaking heyday, the Corrs have been on hiatus, spending time with their families.
Sharon Corr revealed that herself, Caroline and Jim had been rehearsing in Dublin a month ago. Sharon currently resides in Madrid with her teenage children Cathal and Flori.
She also added that the bandmembers' children and spouses do not accompany them to tours anymore.
"We would love to bring them all with us but that would be an expensive tour. If we were to bring all our children", Caroline stated.