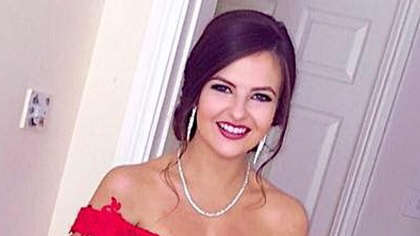 Jozef Puska has received a mandatory life sentence for the murder of Ashling Murphy.
Mr Justice Tony Hunt described the sentence as "wholly deserved."
Puska, from Mucklagh, Co Offaly, originally from Slovakia, was found guilty last week of murdering Ms Murphy in a monstrous attack by the Grand Canal in Tullamore on 12th January, 2022. She was stabbed 11 times in the neck.
Ms Murphy was a primary school teacher and gifted musician.
The sentencing took place in a packed Court 14 in the Criminal Courts of Justice.
Ashling Murphy's family, including her parents Kathleen and Ray, her sister Amy and brother Cathal, and her boyfriend Ryan Casey, were present in court.
Ryan Casey was the first to deliver his victim impact statement.
He described the first time they met at a disco in Tullamore rugby club in 2013, when he knew there was something so special about her and that they "were destined to be soulmates."
"We talked about marriage a lot, the engagement ring she wanted and what type of dress she would love and who would be in the bridal party and down to our song 'Can You Feel The Love Tonight' from the Lion King," Mr Casey told the court.
He described the murder as a "horrific, senseless and beyond evil act," and Puska as "the lowest of the low."
Addressing Puska directly, he said: "You have no idea and will never have any idea the level of love and connection me and Ashling shared.
"You have no idea how much you have stolen from us. Because of you I will never see her smile again. I will never get to marry my soulmate."
A victim impact statement was then read on behalf of Kathleen Murphy, Ashling's mother.
"I miss her sweet music in our home. It breaks my heart," she said of her daughter, whom she described as "one in a million."
"There is such a void in our home. I'm barely existing from day to day," she said.
Ashling's sister Amy then told the court how her sister was everybody's role model, and was born to be a teacher and loved every second of it."
"The country has lost someone who made a difference," she said of her sister, "we still set our table for five people."
She told Puska directly: "The trauma and suffering you have imposed on our family will far out way any punishment you receive."
Earlier in the day, Mr Justice Tony Hunt opened proceedings by addressing certain legal issues that arose during the murder trial. This was necessary in case of any future appeals or parole hearings.
A challenge to the admissibility of CCTV footage used as evidence in the case was dismissed by the judge.
He said he did not believe Puska's privacy rights were breached by the use of CCTV evidence that showed him cycling around Tullamore before the murder.
There was also an objection to the admissibility of interviews conducted by gardaí with Puska in hospital following the murder.
The judge said he is satisfied there is no issue with gardaí conducting interviews with someone who is in discomfort and that the confession obtained in this instance was done so legally.
He said it was "reasonable and permissible for gardaí to continue their inquiries and to ask further questions."
In response to Puska's claim that he could not remember what he told gardaí in the hospital, Mr Justice Hunt said "I don't accept that he had amnesia of that kind or anything like."
Ashling Murphy RIP.