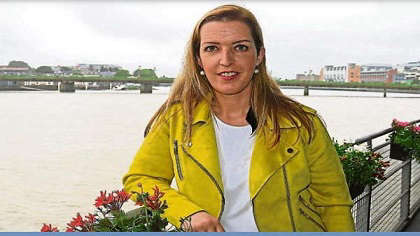 Today marks the first anniversary of the death of CervicalCheck campaigner, Vicky Phelan. A woman who "saw things as they are, rather than how others wanted them to be," and "just wouldn't give up."
Ms Phelan, a mother of two, was first diagnosed with advanced Cervical Cancer in 2014. An earlier smear test in 2011 was reported as showing no abnormalities. However, in the course of routine internal audits, her original result was found to be inaccurate.
This news was not relayed to her at the time, but she stumbled upon the information by chance while reading her notes at her doctor's office in 2017.
Had the test results been accurately read and relayed to her at the time, her treatment and diagnosis could have been drastically different.
Ms Phelan brought a case against the HSE and Quest Laboratories claiming medical negligence and breach of duties for failing to inform her of the audit results.
🧵Today marks the first anniversary of the death of Vicky Phelan

In her memory, we're calling on government end what the Scally Report called a 'paternalistic approach' to women's healthcare in Ireland https://t.co/EITonBCx9j pic.twitter.com/7GYZNR11Tn

— Womenscouncilireland (@NWCI) November 14, 2023
The case was settled in the High Court, but Ms Phelan refused to sign a non-disclosure agreement, which would have prevented her from speaking publicly about her ordeal.
Ms Phelan went public with her story and discovered that hundreds more women had similar experiences.
She then co-founded the 221+ Patient Support Group which aims to help the women and families affected by the scandal.
The 221+ group have today paid tribute to their friend and founding member, firstly offering their thoughts with her children, "her pride and joy," Amelia and Darragh, her husband Jim, her parents and extended family.
"The first we heard of Vicky Phelan was the day she stood outside a court room to say that she would not be silenced over the mistakes and shortcomings of others. She stood up for herself. More significantly she stood up for others," a group statement said.
The group acknowledged her success in prompting the Patient Safety Bill, a law that makes open disclosure a mandatory obligation of those charged with the care of a patient in the Irish Health system.
Today, on the 1st anniversary of Vicky Phelan's death, we remember Vicky and all the other women who aren't with us today because of cervical cancer. We honour their legacies by continuing to work tirelessly to ensure that women's health is prioritised and promoted in Ireland. pic.twitter.com/o5u2bT7asi

— Irish Cancer Society (@IrishCancerSoc) November 14, 2023
The statement said that she would have celebrated the recommencement late last month of the processing in Ireland of CervicalCheck samples in the National Cervical Screening Laboratory at the Coombe Hospital, which she had campaigned for.
However, the group described these measures and other reforms of CervicalCheck as recommended by the Scally Report, as a "stepping stone," with work still to do on providing a "singular, programmed focus on women's health."
"Vicky's work got it across to decision makers that an excellent healthcare service is as much about how the patient feels about their care as it is about medical expertise, facilities, science and technology," the group said.
"She also showed the value of the patient's voice. Her initiative opened a conversation that Dr Scally and others have advanced where the experience of the patient is being recognised as a crucial contributor to health service planning and delivery."
The 221+ Patient Support Group added that they "will never forget Vicky Phelan as the woman who lit the flame."