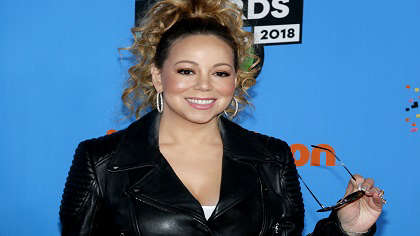 Mariah Carey is being sued, again, over the rights to her global mega-hit "All I Want for Christmas is You."
Songwriter Vince Vance, who claims that she stole the song from him, filed a similar lawsuit last year but eventually dropped it.
Billboard has reported that Vance (real name Andy Stone) has now renewed his claim and filed a complaint in Los Angeles federal court.
He said that Carey's holiday classic infringed the copyright to his 1989 song of the same name, released by his band, Vince Vance and the Valiants. He added that his song received "extensive airplay" in 1993, a year before Carey's single was released.
The new lawsuit says Vance's song was "a country music hit," reaching No. 31 on Billboard's Hot Country Songs chart and No. 23 on the Hot 100 Airplay chart.
Vance's 1989 song - All I Want for Christmas is You
Vance insisted that she made up the story of how the song was written, pointing out that her co-writer on the song, Walter Afanasieff, has also disputed her account.
"Carey has without licensing, palmed off these works with her incredulous origin story, as if those works were her own," the new complaint states.
"Her hubris knowing no bounds, even her co-credited songwriter doesn't believe the story she has spun. This is simply a case of actionable infringement."
Vance is represented by Gerard P. Fox, the attorney who represented two songwriters in their case against Taylor Swift over the lyrics to her chart-topper "Shake It Off." That case ended with an undisclosed settlement.
The new lawsuit points to similarities between the "unique linguistic structure" and musical elements of the two songs.
"The phrase 'all I want for Christmas is you' may seem like a common parlance today, in 1988 it was, in context, distinctive," Vance's lawyers said.
"Moreover, the combination of the specific chord progression in the melody paired with the verbatim hook was a greater than 50% clone of Vance's original work, in both lyric choice and chord expressions."
This new complaint also includes Troy Powers as a plaintiff, who co-wrote the song with Vance.