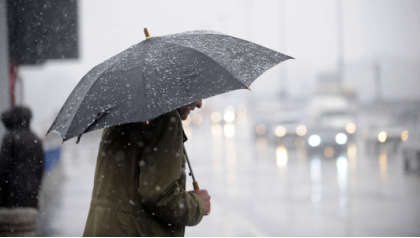 Several weather warnings have been issued across Ireland, following the arrival of Storm Agnes.
With wind and heavy rain expected, Met Éireann have said that disruption is likely, as Storm Agnes hits northwards across the country.
One such warning has seen a Status Orange being issued, with Carlow, Kilkenny, Wexford, Wicklow, Cork, Kerry, Tipperary and Waterford to receive "very strong and gusty southerly winds with some severe and damaging gusts" from 9am to 5pm today.
A Status Orange Warning has also been issued for Waterford, Cork and Kerry, with Met Éireann warning of coastal flooding, power outages, treacherous travel conditions, and fallen trees.
Cork, Kerry and Waterford are also expected to receive occasionally intense rain from 9am to 3pm.
A Status Orange warning has also been issued for coastal areas of the east and south.
#StormAgnes will track north-eastwards over Ireland today with disruption likely in places⚠️

It will be wet & very windy with strong to gale force southeast winds 🍃🌧️

Latest warnings 👇https://t.co/Xg3aMJlyuS

Latest weather forecast 👇https://t.co/9gKN6SVok4 pic.twitter.com/ZvcMoChEF1

— Met Éireann (@MetEireann) September 27, 2023
Cork, Waterford and Kerry have also been issued with a Status Yellow rain warning, along with Carlow, Dublin, Kilkenny, Wexford, and Wicklow.
The public have also been warned of the potential of difficult travel conditions poor visibility on the road, along with localised flooding. The warning will be in place from 7am until midnight.
Leinster, Munster have also received Status Yellow win warnings, which are also effective from 7am this morning until midnight.
Elsewhere, Northern Ireland has also received with a Status Yellow Wind warning for the 6 counties.