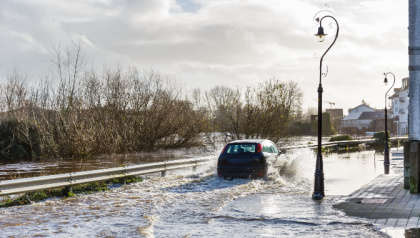 A number of Status Yellow warnings have been put in place for today and tomorrow, with Storm Ciarán set to pass over the country from this evening.
Met Éireann have placed a Status Yellow Warning for counties Waterford, Cork, Kilkenny, Carlow, Wexford, and Wicklow. This warning takes effect from 7pm tonight, and will remain until 7am tonight.
Another Status Yellow warning has also been placed in Kerry, Clare and Galway, effective from 5am until 11am, while a separate Status Yellow warning remains effective in Kerry until midday.
With heavy rain already falling on saturated ground from recent wet weather, possible flooding remains a strong possibility.
"Further rainfall associated with Storm Ciarán, combined with saturated ground conditions and high river levels, may lead to flooding", the national forecaster said.
Stormy weather also follows the flooding in several parts of the country, with business in Louth, and Wexford among those mostly affected.
Met Éireann have also warned of localised flooding, treacherous travel conditions, and poor visibility, while coastal areas are expected to overtopping.
Cloudy, dull & wet this morning. 🌧️

A band of rain moves off N counties while scattered showers move in across the country. ☔️

Some showers will be heavy & squally for a time but will clear away to the N later this afternoon followed by a mix of sunshine & isolated showers. 🌦️ pic.twitter.com/egd9Whif1a

— Met Éireann (@MetEireann) November 1, 2023
The owner of the Shalom B&B in Carlingford, co Louth, Kevin Woods, has said that he has been pumping water out of his B&B all night with three of his children.
"I have three children. They have been working there all night. We have been pumping water", he said. "We managed to get it out of the house from half seven yesterday morning. We were working on it all day but we got it out of the house or at least it's under the floor boards. It has disappeared and we have been pumping all day yesterday".