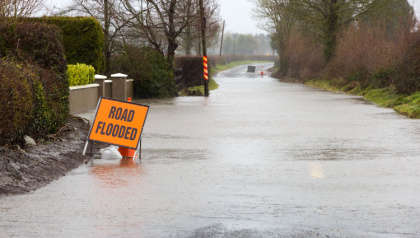 Storm Ciarán has moved along the southern coast, with more rain forecasted for today.
Status Yellow Rain Warnings were put in place in several counties yesterday, leaving residents bracing themselves once again last night, having experienced severe flooding damage, and rainfall earlier this month.
However, the rain that eventually fell was "quite small" for a named storm, according to forecaster, Gerry Murphy.
"We had about 15mm of rainfall in Ashford, Co Wicklow and that was the most rainfall that fell. In the southeast, we actually had about 10mm", he said.
Murphy continued, "Now, as I said, there was always a threat [of flooding]. The yellow level warnings were issued because of the threat of flooding in areas that have already flooded so these amounts may have had an impact with regard to flooding but overall rainfall amounts were not exceptional in any way regarding the storm itself".
He added, "We were lucky in the sense that it maintained its track well to the south of Ireland", he also said that this is a "significant storm" due to the winds witnessed in France recently.
While dry weather is expected for the afternoon, showers may become heavy in the west and southwest. Highest temperatures are expected to stay between 9 and 12 degrees, before dropping to between 1 and 5 degrees overnight.
Tomorrow is expected to see a mixture of bright and sunny spells, along with scattered showers for the southwest. Highest temperatures are to remain between 10 and 13 degrees.
Met Éireann have warned that the rest of the week is to bring "unsettled with rain and showers continuing through the weekend and into next week".
The forecaster has also warned of spot flooding, caused by rain and drizzle, which is set to become heavy for Saturday and Sunday.